A Whiter Smile for a More Confident You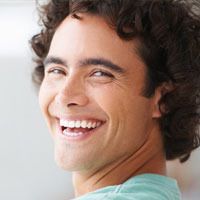 Bright, white teeth are without doubt one of the most desirable physical attributes today. Our perception of people with kilowatt smiles tends to be that they are healthy, happy, successful and attractive, and unsurprisingly, we want to emulate these characteristics for ourselves. Unfortunately, very few people have naturally white teeth. In fact, teeth aren't naturally white at all. The enamel that covers our teeth is fairly translucent and it is the color of the middle layer of the teeth – the dentin – that shows through. Most of us have slightly off-white and even slightly yellow teeth, and this has no bearing on how well we look after them. As we get older, the dentin darkens, and this causes the color of our teeth to darken too. Tooth color can also be affected by what we eat and drink, and by habits such as smoking, all of which can cause our teeth to become discolored or stained.
Fortunately, it is now easier than ever to improve the color of your teeth thanks to the accessibility of professional teeth whitening services. We are proud to be able to offer our patients the benefit of smile transformations using teeth whitening, carried out at our dental offices in Salt Lake City, UT.


What is professional teeth whitening and how does it differ to other alternatives?
As the name suggests, professional teeth whitening is carried out in the comfort of our offices, by our highly trained, skilled and experienced cosmetic dentistry team. During teeth whitening, a professional-strength whitening agent is pasted carefully onto the teeth, which is then activated using a special light. This triggers a chemical reaction on the surface of the teeth that breaks up stains and discoloration and lightens them.


With an abundance of over-the-counter products that claim to be able to lighten and whiten the teeth, you could be forgiven for wondering what makes professional whitening the preferred option. There are numerous reasons why it is considered superior in every way to the at-home whitening alternatives.
- Professional whitening delivers faster and more effective results. This is because the high-grade of bleaching agent used is only made available to professionals and is not able to be purchased over the counter.
- Our expert cosmetic dental team has the tools and access needed to properly protect your gums, tongue, and inside of your mouth from the bleaching agent, preventing irritation and soreness.
- Our team has superior visual and physical access to your teeth, meaning that the whitening agent can be applied more consistently across the teeth, leading to better results.
- The results of professional whitening are proven to last far longer than those of over the counter treatments, which require continued use to maintain the effects of the treatment.
- Typically, fewer appointments are needed for patients to be able to obtain the results that they are looking for.
- Should your teeth be stained on the inside, our skilled team can apply a bleaching agent to the inside of the teeth in order to lighten the dentin and produce excellent results.
- You are carefully monitored throughout each session, and you can relax knowing that your whitening treatment is being carried out with the utmost safety and skill.
Let our team show you how simple it is to safely and effectively achieve the smile of your dreams

Contact Our Salt Lake City Practice About Teeth Whitening
If you are unhappy with the color of your teeth and would like more information about whitening, or if you'd like to schedule a consultation to discuss your suitability for this transformative dental treatment, please contact our offices in Salt Lake City, UT today.