Am I a Candidate for Clear Aligners?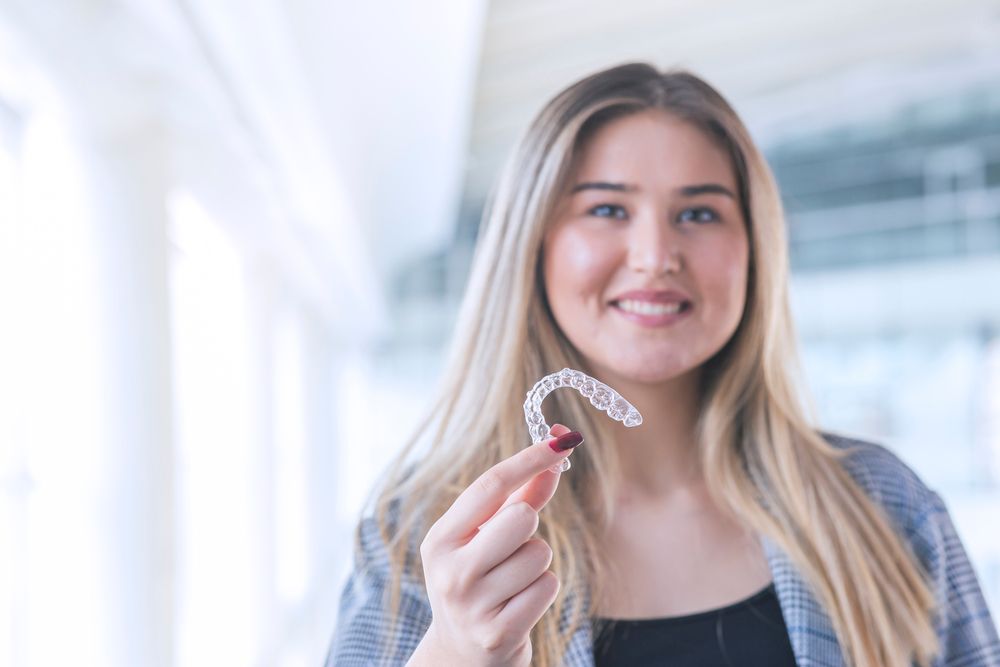 If you are looking for a way to straighten your teeth without people noticing, clear aligners could be your best option. Their popularity keeps rising, and most people opt for these aligners because they do not have wires and metal. It is essential to know whether you are an ideal candidate for this modern alternative of straightening teeth.
What Are Clear Aligners?
Clear aligners are custom-made, discreet orthodontic solutions for teeth straightening. They are plastic trays that are clear and made to fit your teeth. They are different from metal braces because they need constant changing as the teeth begin shifting. They are also very comfortable, able to accommodate your teeth precisely.
Clear aligners are removable. You are to wear them all day except when brushing your teeth or eating. They are the best option for individuals who want to improve their smile but do not want wires running across their teeth. People may never notice that you wear clear aligners because of their transparent nature.
Advantages of Clear Aligners?
Clear aligners have many benefits, and the best of them all is that they are nearly invisible, meaning no one can know you have them on until you tell them. Below are some of the advantages of wearing these aligners:
Removable - You can remove the aligners when you want to eat, brush your teeth, or clean them.
Comfortable - The material that makes the clear aligners is flexible and smooth.
Straighten teeth faster than traditional braces - Clear aligners give results in a short time.
Entails fewer trips to the dentist - You may not need to see your dentist soon after getting your trays. You will have a series of aligners to switch to after every two weeks.
Improves dental health - Brushing and flossing straight teeth is easy and effective. Hence, you maintain proper dental hygiene for a healthy mouth and teeth.
Who Is a Candidate for Clear Aligners?
Clear aligners suit individuals with the following orthodontic problems:
Crooked teeth.
Crowded teeth.
Spaced or gapped teeth.
Crossbite.
Bite problems.
Individuals with orthodontic issues that are different from those listed above should talk to their dentist. They should do so to find out what could be the best solution for their problem.
What Is the Process of Getting Clear Aligners?
You will start by going for a consultation with your orthodontist. During the consultation, you will discuss your smile goals and what it takes to achieve your desired results. Your specialist can show you what your future smile will look like by using digital technology. They will then scan your mouth to get a clear image of how they will custom make your clear aligners.
Once you start wearing your clear aligners, you will change the trays after every two weeks as your teeth will be moving. Completion of treatment varies for every patient. However, most begin seeing results after several weeks.
You ought to brush your teeth every time you eat or take a beverage that is not water. In doing so, you maintain healthy teeth and reduce the chances of staining them or the aligners. You also reduce the risk of tooth decay from food particles and bacteria that can become trapped between your teeth.
When Are Clear Aligners Ineffective?
Clear aligners may not be a solution when you have many oral issues. When your dentist notices you have extreme underbite or overbite, having crooked teeth may not be the cause. You may need to get your jawbone physically shifted because wearing aligners may not correct the bone problem.
For more on clear aligners, call Eagle Gate Dental at 801-781-5300 to reach our office in Salt Lake City, Utah.
Author:
Eagle Gate Dental
Date:
2023-06-27
The Centers for Disease Control and Prevention stresses the importance of practicing good oral care at home. Forming this routine allows you to have healthy teeth and gums. It can help prevent serious dental problems in the future. Here are the details that you must consider to maintain good oral care at home.